Benrinnes 15 Yr old Speyside Single Malt Scotch Whisky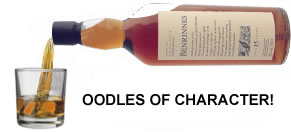 The Benrinnes is a unique single malt Scotch being the only Speyside malt whisky to be triple distilled in the fashion of a Lowland Malt or Irish Whiskey but with much more depth of character than either of those two styles.
This single malt is truly exquisite – very smooth while both complex and rich. Satisfying oak with a hint of smokiness and a snip at this price.
Once tried you will retain the memory! Benrinnes Single Malt Scoth Whisky, Benrinnes Single Malt Scotch Whisky
Strength: 43%
Bottle Size: 70cl
Price: under £35