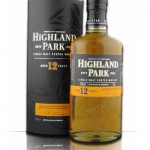 Highland Park whisky, from Orkney (Scotland)  is distinctly aromatic with a full bodied sweetness.  Its balance manifests because of the Orkney peat, and the sweetness of the oak casks seasoned with olorosso sherry.  Highland Park single malt whiskies are well known due to the care and attention put in to making them, and the number of times they have won the Best Spirit in the World award is a testiment to how great Highland Park whiskies are.
See All Highland Park Whiskies with Worldwide Delivery
When Highland Park first appeared as a single malt at the end of the 1970s, all the design work was carried out by a London agency. There were no genuine Orcadian roots to the design.  The new breed of Highland Park packaging comes from their historical roots to compliment the culture of the whisky.
Popular Highland Park Single Malt Whiskies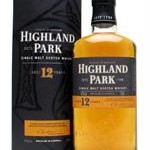 Highland Park 12 Year Old 
An old favourite in new packaging. Still as smooth, sweet and smoky as ever. "The greatest all-rounder in the world of malt whisky". Michael
Jackson, Michael Jackson's Malt Whisky Companion 'The Best buy amongst single malt whiskies.' Whiskies to Warm To, Which Consumer Magazine.
The cheapest of the bunch with great value considering Highland Park's heritage.  Worldwide Delivery.  Click Here To Check Prices