Cardhu Whisky Distillery


Cardhu distillery is to be found south of Elgin in the Speyside region of north east Scotland and dates back to 1824 when it was legally founded by farmer John Cumming although he had started distilling illegally in 1811. Eventually the distillery ownership passed down to his daughter-in-law Elizabeth who was without a doubt the most influencial woman distiller in the history of malt whisky.
The single malt Scotch Whisky produced forms an important component of the Johnnie Walker blends, the world's most popular and biggest selling blended Scotch Whisky. The gaelic name 'cardhu' means black rock and luckily for us some of the production is available as a single malt – and it is very good!
Feel free to try these – you won't be disappointed!
Cardhu 12 year old Single Malt Whisky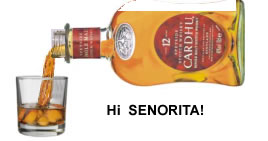 The Cardhu 12 is malt smoothness in a bottle – hints of nutmeg and black pepper imbibing the creamy golden toffee. It is the biggest selling single malt Scotch Whisky in Spain where they can't get enough of it.
Why not relax with this!
Strength: 40%
Bottle Size: 70cl
Price: under £30

Cardhu 22 Yr Old Single Malt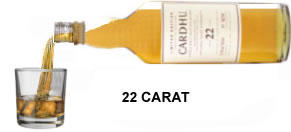 Cardhu 22 year old speyside malt is a single malt which can rival allcomers in its complexity.
Subtle fruits, malt and essence of hazelnut in a marriage made in heaven to revitalise every last taste bud.
A total bottling of 3000 in 2005 – there's not a lot left but there is some waiting for you!