The Dalmore Whisky distillery is situated on the banks of the Cromarty Firth looking south over the Black Isle and was opened in 1839. The single malt produced has won numerous awards over the years and is full bodied and flavoursome and ages extremely well perhaps better than any other malt. Some of the production has formed part of Whyte & Mackay blends for many decades and they actually now own the distillery.
At the Online Whisky Shop we hold Dalmore Single Malt Whisky in high regard and we recommend each individual malt in the range without reservation.
Unfortunately for many the older maturities are rare and therefore pricey, however the younger versions are very good in their own right.
Dalmore 12 Year Old Single Malt Whisky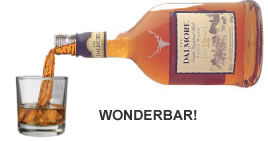 Dalmore 12 is one of our best selling highland malts and rightly so as it is very, very good. A beautiful colour and taste to match – smooth and comforting with touches of spice, citrus and golden toffee – wonderful on its own or on the rocks, or with water or ginger ale – the choice is yours.
If you haven't you should!
Strength: 40%
Bottle Size: 70cl
Price: under £25
Dalmore 40 Year Old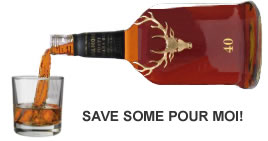 Dalmore 40 is definitely worth a meeting with the bank manager but don't take a bottle with you as you might not get it back. Laid down in 1966, bottled in 2006, after the 'angel's share' the spirit remaining would only fill 1000 bottles – so this is rare and expensive.
This is richness personified – clootie dumpling, finest dark chocolate, orange shred marmalade with a touch of almond and as smooth as it comes or you can just keep it as an investment! It is entirely up to you.
Strength: 40%
Bottle Size: 70cl
Price: £1,325