Ginkgo Japanese Blended Malt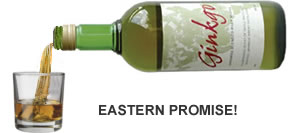 A blended malt made through the marriage of single malts from various Japanese distilleries, which in itself makes this a rarity as Japanese distilleries are normally particularly insular. Ginkgo is put together by the expert hand of Ichiro Akuto.
This is ultra smooth and smoky and a favourite of ours with a complex nose and spicy aftertaste which makes it an ideal accompaniment to Japanese and other Asian foods.
Try something a little away from the ordinary.