Balblair Whisky Distillery


Balblair is the second oldest distillery in Scotland with distillation dating back to the 1740's and its position overlooking the Dornoch Firth in the far north east of the highlands of Scotland is just like the whisky – breathtaking. The present buildings were built in 1870 and have not changed much since then.
The single malt whisky produced is without doubt out of the top drawer and deserves far greater exposure than has hitherto been the case. These are multi-award winning whiskies and perhaps recent changes to the presentation and the introduction of new vintages will introduce Balblair single malt whisky to a much greater audience.
You should try these out for size!
Balblair 1997 Single Malt Whisky Whisky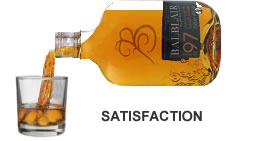 The Balblair 1997 is a pleasantly aromatic rich and smooth 10 year old single malt with a perfect balance between fruit, hints of lemon and pineapple, and creamy smooth vanilla which leads on to a very pleasing aftertaste.
Experience pure satisfaction – try some now!
Strength: 43%
Bottle Size: 70cl
Price: under £29